Red Wing Staycation: St. James Hotel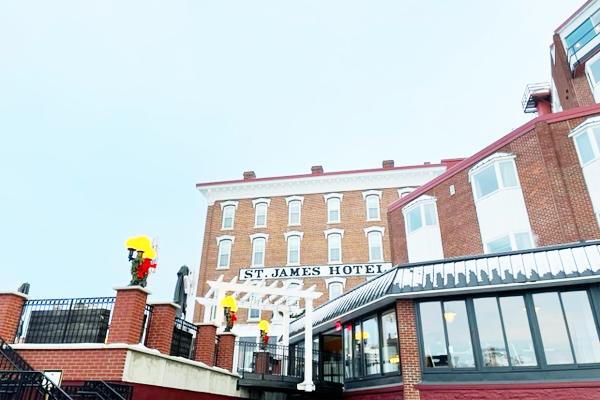 As a couple, one of our goals for the upcoming year, is to take more time to be with each other. Put the phones down, get away from the farm and reconnect. After a very busy fall (hello baby #2) we needed a weekend, even a day to spend some time away from the kiddos and with each other. Luckily, Red Wing, MN is not that far from our house and has the perfect little hotel to get away to.
If you're a self-proclaimed foodie like myself, eat supper at the Scarlet Kitchen and Bar, you'll love it. I enjoyed an absolutely perfect New York Strip and asparagus. There was a side of au gratin potatoes, however they were were a touch too spicy for my liking. The specialty drink menu was on point.
Next, enjoy a few beverages in The Port bar. I'd agree with an online review that compared it to a speakeasy, hidden downstairs amongst the big rock walls and massive fireplace, it was the perfect way to end the night. The ambience was perfect on the cold winter night. Our bartender, Lisa made the most delicious chocolate martini. Just the right amount of sweet to compliment our dinner.
There are other shops within the hotel, which would make it an even more perfect weekend getaway. We didn't visit the spa, but there is one for those who'd like to relax in that way.
The best part is that it's all right within the hotel building. During these cold winter days, it was nice to not have to get all bundled up to go from restaurant to the bar.
Check out a few pictures from our stay there.