Spring Fashion Must Haves With Chelsea From Apricot Lane
Spring is here and I'm ready for updating my closet with cute spring clothes. This week I teamed up with Chelsea from Apricot Lane Boutique, located in the Oakwood Mall to discuss spring fashion must haves for you and me!
Boutique shopping is an experience. Apricot Lane is a smaller specialty shop focusing on unique trendy items that are handpicked by the franchise owner based on what their guests love! Apricot Lane focuses on providing you with a whole outfit from pants, shoes, and jewelry.
I got to hang out with Chelsea, who manages the Eau Claire location, to talk fashion and her spring style advice. She loves styling outfits that help you transition your fit from day to night with just a few quick changes. Her go to items for this are a quality white tee that you can dress up or down and a classic denim jacket that you can throw over any outfit. Pair it some classic heals or converse sneakers and you're ready for anything. Chelsea loves multipurpose fashion, staying on top of trends and helping guests pick out their dream wardrobe.
Some of the boutique brands you can find at Apricot Lane are KanKan, She and Sky, and Doe & Ray. So, let's talk spring trends!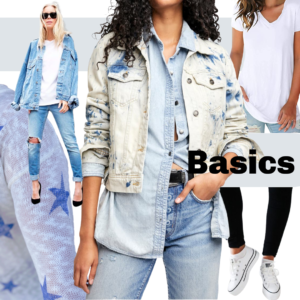 First, we are seeing a rise in floral! From printed flowy tops to chic silk bandanas in sorbet pastel shades. Give me all the paisley print mini dresses please! I love pairing these looks with stacked sneakers, I am wearing ones from Superga; or a Dr. Marten boot if you're feeling like an angsty emo kid (my soul forever).
Next let's talk "mom jeans". The high waisted denim trend has been here for a while however brands are FINALLY catching up to us because they are making flattering, stretchy denim we can LIVE in. I got my favorite high-rise denim at Apricot Lane and I will for sure be back for more.
If you are a true 'Midwest Gal' Apircot Lane is your go to for trendy Wisco gear from Friday night fish fry shirts to camo baseball caps. The Eau Claire Apricot Lance location carries a variety of midwest brands which is great if you like supporting smaller companies.

Apricot Lane started in 2007, there are over 75 franchises company wide and are currently growing by 15-20 stores a year. They support other local businesses by donating time or gifts and also host fun shopping nights with extra discounts. If you are looking for a new shopping experience go check out Apricot Lane for a "Ladies Night" shopping event coming up on 5/20/21 in Oakwood Mall and tell Chelsea I sent you <3