Living Great (with Food) at the Brewing Projekt
In my opinion, the Brewing Projekt in Eau Claire offers the premiere patio experience in town. Unique and flavorful craft brews compliment a visually stunning riverfront brewery experience. Tap offerings range from the hometown favorite Gunpowder IPA to the light and crushable "Eau Cleazy" Cream Ale. The service and environment are pleasant, and for those who aren't horribly allergic to dogs unlike yours truly, there is rarely a shortage of four-legged friends floating from table to table, eager to introduce themselves.
The ONLY complaint I've had are its food options (or lack thereof). Breweries in the Midwest have treated me to some incredible beer-and-a-bite experiences, fortunately, Projekt does allow customers to carry-in outside food.
The latter of those options happens subject of this piece today. My most recent trip to The Brewing Projekt was blessed by the presence of the 715's own 'Live Great Food' food truck.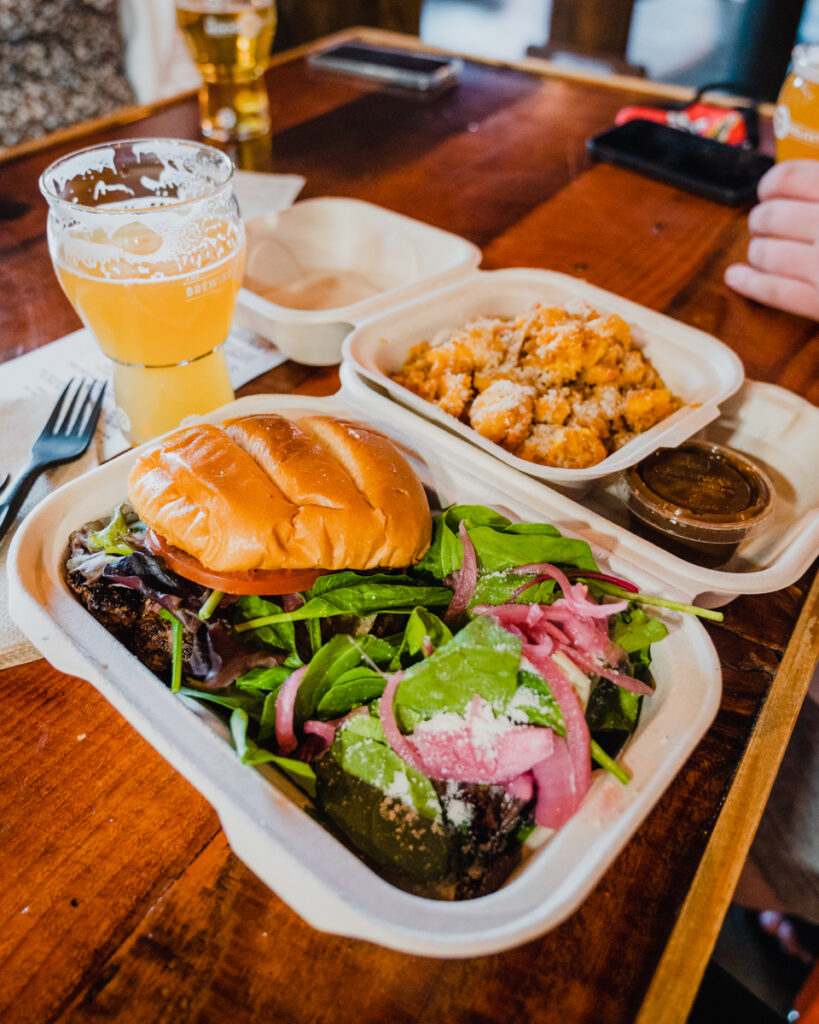 Now, I've been a fan of Live Great Food's truck for a while. Up until last week –I'll admit—my experience with them has been limited to what can only be described as "zombie-like" Saturday morning walks to the Phoenix Park Farmer's Market. The gravy slathered "Eau Boy" has brought me and undoubtedly many other Eau Claire residents back to life after a night of drinking.
The Live Great Food truck and the family-owned-and-operated small food business behind it are proud to offer locally sourced and high-quality food to their customers. A quote from their website states, "Our mission is simple; Remain true to great food. Offer the best quality ingredient available. Continuously seek enlightenment and understanding in where our food comes from and bring it to the masses."
Foodie or not, how could you not love reading that mission statement?
My Friday night at the Brewing Projekt saw the hoppy, juicy, BOOZY Citra Patrol IPA paired with Live Great Food's crispy, warm cheese curds and a buttery, fresh Farmburger.
The curds were excellent, though clumpy. I'd describe them as more of a cheese mound than a cheese curd, which only meant I had to eat like 5 at once. Rough, huh?
The Farmburger was the star of the show, hands down. Fresh greens, ripe tomatoes, and pickled red onion piled atop a perfectly cooked blend of beef, pork, and smoked bacon left my girlfriend and I fighting for the last bite (she won).
It's rare for my beer to take the back-burner while I eat a meal. That being said, the pint in front of me may as well have been a million miles away while I enjoyed that burger.
I can't recommend enough paying a visit to The Brewing Projekt on ANY given night but planning around their food truck schedule will ensure great food as well as a delightful outdoor drinking experience.
Per usual, here are some photos.
Their food truck schedule can be found here.
Visit Live Great Food on Instagram or online here to learn more about what they do!
Cheers, 715!