Legends of the 715: Fuzzy Thurston
When you think about the 1960's Packers, you think of all the championships, including Super Bowls 1 and 2. You think of the Hall of Famers like Vince Lombardi, Bart Starr, Ray Nitschke, Willie Davis, Willie Wood, Herb Adderly, Forrest Gregg, and more. You also think about the personalities on that team like Paul Hornung, Max McGee, and Jerry Kramer. That was a team loaded with talent and is regarded as one of the best dynasties in all of sports.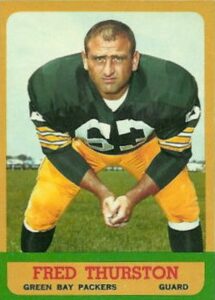 And a crucial member of that Packers dynasty was from right here in the 715.
Frederick Charles Thurston, better known as "Fuzzy", was born and raised in Altoona, Wisconsin. If you go by the football field in Altoona, you'll see his name right there.
Fuzzy was an integral part of the vaunted offensive line for the Packers that included Pro Football Hall of Famers Gregg, Kramer, and Jim Ringo.
Playing offensive guard for under Vince Lombardi and the Packers meant that you would be doing a whole lot more than just staying in a small area and blocking. It meant you needed to get out in space and be an effective blocker in the famous "Packers Sweep". Between Fuzzy and Kramer, those two helped clear the running lanes for hall of fame running backs Hornung and Jim Taylor.
Fuzzy ended up being a part of six championship teams. The first coming with the Baltimore Colts in 1958 and the other five with the Packers. He was a first team all-pro in 1961 and was named a second team all-pro four other times.
So the next time you drive through Altoona and you see Fuzzy Thurston Field, you'll know that's named after a Green Bay Packers legend.