A Beauty Tribute To Olivia Newton-John
Where do our fashion and beauty trends come from? Usually, it's a revival from the past that sparks the looks we see in our upcoming trends. So this week we are looking back in time to the late Olivia Newton-John and some of her Iconic beauty and fashion trends.
For me, Grease and Xanadu were so inspiring to watch as I was growing up. The music, art, fashion, hair, and makeup were EVRERYTHING!
I just so happened to be decluttering old boxes of mine this past week and came across this old drawing I did. I think I was in middle school when I drew this, haha!!
The timing of this was too good not to share.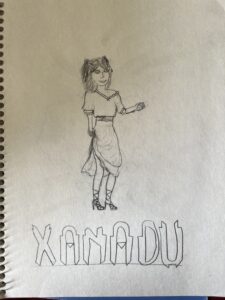 Soft Glam

Disco Queen

Pop Princess
I hope this post reminds you to think back in time and see who inspires your current beauty and fashion trends <3