Back 2 School Bucks (and Books) Is Here!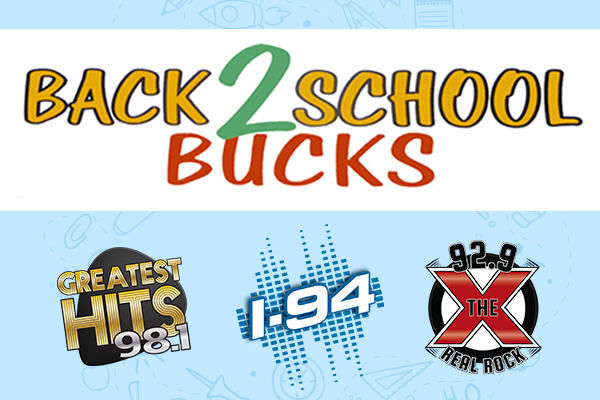 Back to school season is upon us, and while it's an exciting time for many, for some, it comes with its challenges. School-age children need school supplies and books, and that's where Back 2 School Bucks (and Books) comes in! If you'd like to pitch in, there's plenty of opportunities.
Back 2 School Bucks (and Books) is a program that started in 2004 on what was then NewsTalk 790 and what is now Sportstalk 105.1. Since then, it's evolved into a month-long event. In its 19-year existence, Back 2 School Bucks has raised more than $275,000 in cash, school supplies, backpacks, and new and gently used books to serve children in Altoona, Eau Claire, Chippewa Falls, and Cadott school districts.
This year, Greatest Hits 98.1, Today's Variety I-94, and 92.9 The X are teaming up for this annual event, complete with special events, drives, and online fundraisers. This year's event is sponsored by TDS, Chilson Family of Dealerships, and Amundson's Appliance. Nonprofit partners include Literacy Chippewa Valley, Boys and Girls Club chapters in Eau Claire, Altoona and Chippewa Falls, United Way of the Greater Chippewa Valley, and Feed My People.
Feed My People Online Fundraiser
Feed My People will be hosting an online fundraiser through the station websites August 7-11 to help support children literacy programs with United Way of the Greater Chippewa Valley, and Literacy Chippewa Valley. Feed My People is a food bank looking to end hunger in the area, and kids going to school are no exception to struggles of hunger. After all, it's hard to do homework when you're hungry.
Chilson Subaru Event
On August 15th from 7am – 1pm, at the Eau Claire Chilson Subaru, John Murphy will be hosting a special event with help from Scorch and T-Ri of 92.9 the X and Tom Stryker of I-94. Community members can drop off cash donations, checks, backpacks, school supplies, and new and gently used books. See you there!
Auction
In addition, throughout the week of August 21st, there will be an auction online to raise money for Back 2 School Bucks.
Amundson's Appliance Contribution
All month long, Amundson's Appliance will be donating $10 for each purchase at their stores in Eau Claire, Chippewa Falls, Rice Lake and Hayward. Stop in to support a good cause!
Drop Off Locations
From August 7th to August 31st members of the community can drop off school supplies, backpacks, and gently used children's books at these sponsor locations in the Chippewa Valley:
Hy-Vee in Eau Claire
Chilson Subaru in Eau Claire
Chilson Automotive and Chilson Outdoor Adventure RV in Lake Hallie
Chilson Motors in Cadott
Micon Cinemas – all locations in Eau Claire and Chippewa Falls
Amundson's Appliance in Chippewa Falls, Eau Claire, Rice Lake, and Hayward
Security Financial Bank in Eau Claire
Eau Claire Fitness in Eau Claire
In the first two weeks of September, the Back to School Bucks (and Books) program will be delivering school supplies to school districts, and books and supplies to the Boys and Girls Club, Literacy Chippewa Valley and United Way of the Greater Chippewa Valley. Cash is distributed in late September to early October.
Participating sponsors include Sevita Health, Eau Claire Fitness, Hy-Vee, Oral Surgery Associates, TF Exteriors, and Security Financial Bank.