Live Radio Plays at Racy's
March 25 @ 6:00 pm
Free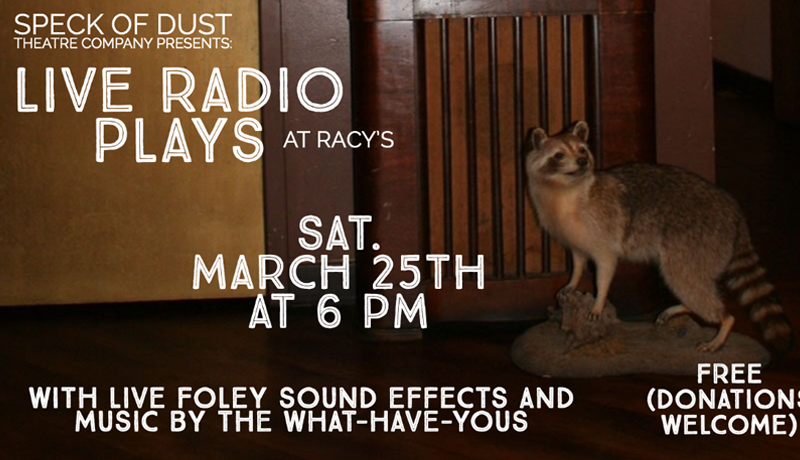 Speck of Dust Theatre Company Presents: Live Radio Plays at Racy's. With live foley sound effects and music by the What-Have-Yous. Directed by Logan Toftness
Featuring: Paige Vasel, Nathan Libby, Micah Arciniega, Kristen Ruka, Autumn Ament, and Matt Wudi
"Dinner Theatre" written by Caitlin Cieri
-Half action/adventure, half cooking show! Will our hero be able to rescue his speechless princess from a dragon? Will our chef be able to make a stew?
"A Stupid Wind-Up Girl in a Stupid Wound-Up World" written by Logan Toftness
-Performed at Whiskey Radio Hour in Chicago in 2014. A sci-fi radio play about two teens in love and the things they cannot control. Written on Valentine's Day. 
"Don't Throw the Doll Baby Out with the Bloodbath Water" written by Allison Fradkin
-Ever wonder who came up with Cabbage Patch Kids and why he signed their butts? Well, it's not the story you think you know. A possessed Cabbage Patch Doll takes her revenge on the man who stole her idea and made millions. Learn more about the inspiration for this script in the 14 minute documentary here: 
https://www.yahoo.com/…/the-cabbage-patch-kids-twisted…
and "Bogmen" written by Logan Toftness
-Written and recorded totally virtually during the pandemic, this is the first live performance of this script! A mother and son revisit the story of the supernatural storm that killed the boy's father.
This show is FREE but donations are welcome
Related Events