Liège Waffle/SHIFT Cyclery & Coffee Bar
Our unintended, yet tasty, journey through European desserts continues in our latest "Dessert Valley, Wisconsin" edition. We move west across the continent to Belgium, by way — once again — of downtown Eau Claire.
A few of my fellow choirmates were enjoying SHIFT Cyclery & Coffee Bar coffee one recent Sunday morning before we performed at a church service, and thus I decided I needed to re-pay SHIFT a visit in the coming days. I also figured there'd be something dessert-esque there, and I found it in the display of baked items at the ordering counter: the Liège waffle: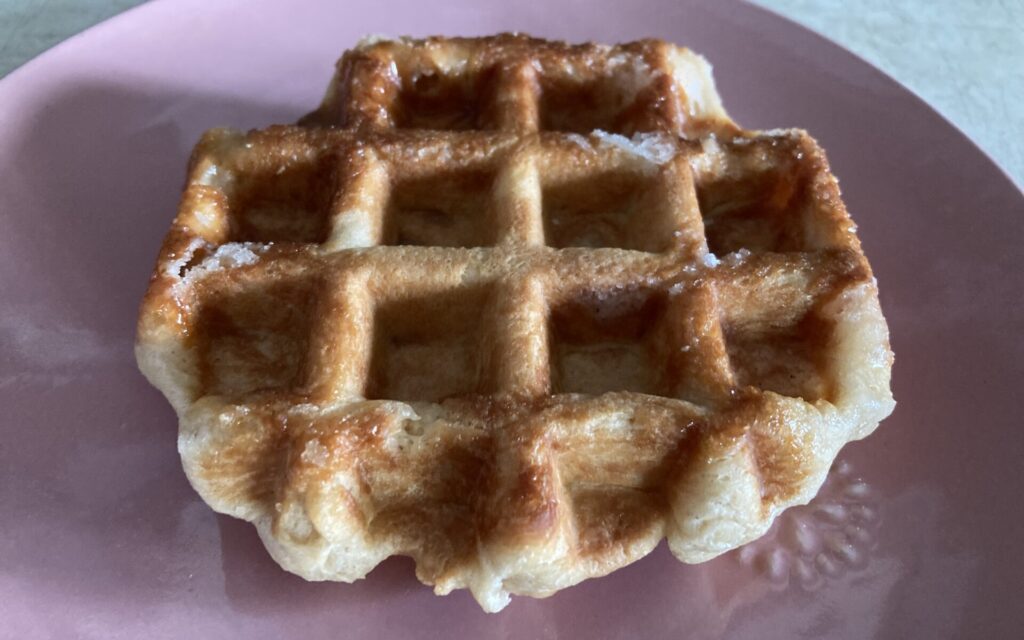 First, I'm thinking it's a waffle — so, breakfast, not dessert. Ah, but what makes a Liège waffle different from your standard-issue waffle? That would be, as the label in the display case noted, the pearls of sugar baked inside the waffle. Sweetness = dessert eligibility.
The Liège waffle originates in eastern Belgium (ironically, the "Belgian waffle" is American, its name adapted from a brand), and is sold by street vendors. As the aforementioned SHIFT label pointed out, you don't need a fork or knife or syrup or really anything to eat a Liège waffle besides your hand — it's like a doughnut. You see the caramelization on the exterior, which covers for the syrup you would want with a regular waffle. It's not sticky, either. I see why you can grab one walking on a Belgian street.
My Liège waffle went well with my SHIFT coffee, so I had an extra shot of deliciousness from my visit. For a different take on a dessert-style breakfast, swing into SHIFT Cyclery & Coffee Bar and get a Liège waffle (the sell day-old ones as well, and they are also quite satisfying). It is a fine way to have a true Belgian delicacy in the Chippewa Valley.