Orange Maple Croissant Cookie/Xavier Artisan
Cookies and croissants: both types of baked goods, but of a decidedly different texture. The former can be soft or hard, but is always dense; the latter is flaky and light. Now, ponder a combination. I tried my first croissant cookie upon my first visit to Xavier Artisan at River Prairie in Altoona.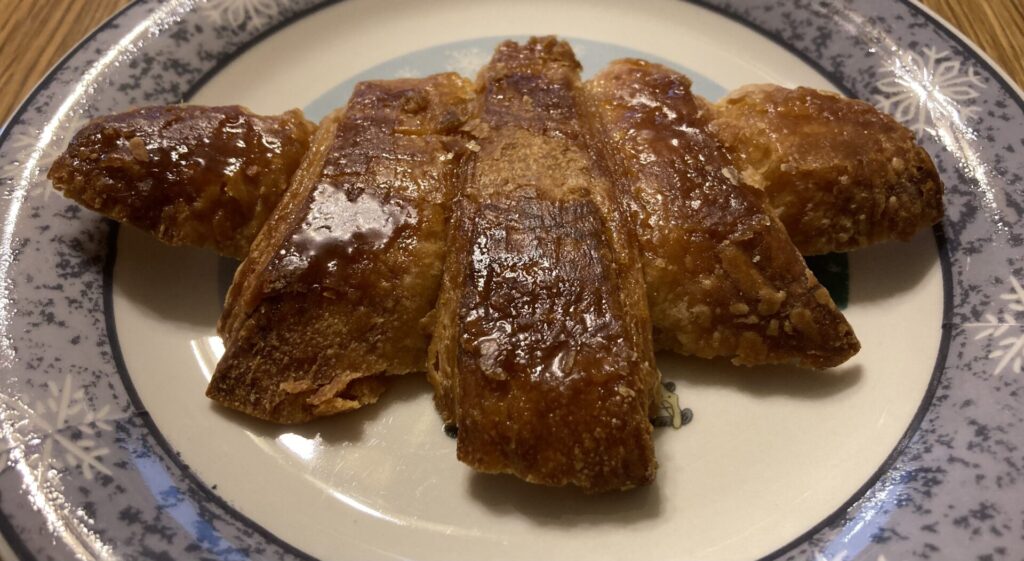 They opened not that long ago in the River Prairie development, on the other side of Highway 53 from the flag at the Chippewa Valley Veterans Park. They specialize in local and natural ingredients, with a whole lot on their menu that will mostly find only at XA Bistro.
The counter helper directed me towards the Orange Maple Croissant Cookie. Here's the fascinating this about it: I originally came to get some of their baklava (very likely the subject of a future Dessert Valley, Wisconsin post), but it just so happened that none was available when I came by (which, in a way, is good to know that it's fresh-enough that you won't find stale stuff there). Yet, the flavoring of the orange (including orange zest) combined with the maple syrup effect, then with the pressed layers of a croissant, made for a neo-baklava. The sweet, the buttery, the bit of crisp — all you'd need are pistachios and this would actually be a solid facsimile. On its own as a croissant cookie, it maintains its own identity all the same — and is not overwhelmingly-filling, so you feel good after finishing.
This was the rare dessert that actually tasted even better with each bite. Really good to start, scrumptious to finish. I might recommend eating it with their baklava to compare (yes, I know I haven't yet tried the latter, but I imagine the back-and-forth will have a great flavor balancing act). I imagine that any route you take — especially the baked goods — will make you want to route back multiple times to Xavier Artisan.