Sweater People: A Musical Trio's Eclectic Melody Mix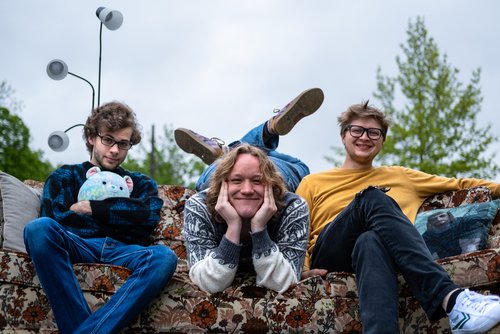 Sweater People is a musical trio that plays an "amalgam of all [their] favorite things," including jazz, funk music, film scores, and video game music. Their instrumental tracks are fun and fresh, made up of improvised and written music.
Hans Fuerst (keys), North Skager (drums), and Will DeBlaey (bass) formed Sweater People in early 2020, after having played together in various bands and combos at UW-Eau Claire. They banded together with the "screw it" mentality, just looking to improve musically and have fun together. After the pandemic shut music down almost entirely, they would play for tips in Phoenix Park, not just to make money, but to get tighter and better as a band. Their fun camaraderie is inspiring – they're just playing music for the passion and fun of it. "Sweater People was the thing that kept me sane," Skager says of the pandemic, and both bandmates agree.
DeBlaey grew up appreciating music and found himself "deeply obsessed" with music from a young age. Skager was introduced to music via his dad's drum set in the basement, and has been playing since he was 10 years old. Fuerst has parents who are deaf, so he didn't grow up listening to music, but found his way in through a piano from his grandmother, video game music, and learning about music theory. They all attended UW-Eau Claire and got various degrees within the music field.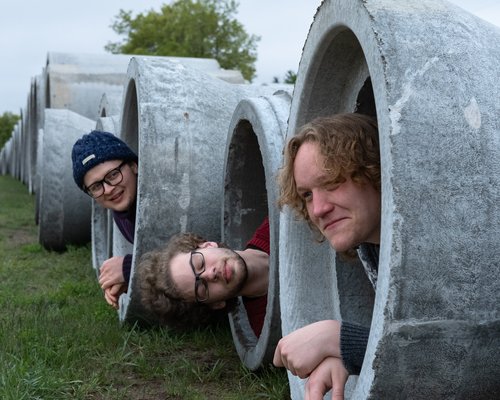 Their first EP, "Sweater Music, Vol. 1," was released in 2023. They recorded it at The Aviary Studio, where DeBlaey engineers, in the summer of 2022. They talk of their experience there as hilarious, fun, and hot. It's impossible to run air conditioning while recording a record, so they were just "sweating it out," as DeBlaey says. They collaborated with fellow area musicians Emily Watkins, Carter Moat, Dustin DeGolier, and their UW-Eau Claire lecturer and saxophonist Dr. Aaron Hedenstrom. They describe many memorable moments recording the EP, including mistakes that turned into epic masterpieces. "It ended up being genius, and so much fun," says Skager.
Skager grew up in a smaller town in North Dakota called Mandan, where there was very little music scene. Coming to Eau Claire, he was blown away by the musical talent per capita, and describes the music scene as "robust" compared to his hometown. DeBlaey agrees. "I'm confident in Eau Claire that I can always count on a really good show happening or someone that's making really inspiring music to have something going on," he says. Fuerst adds that the city's appreciation for art, including music, "elevates the city's humanity." "The environment […] is fantastic to be in," he says.
Sweater People hope to dig up emotions with instrumental music, much like film composers. "Whether we want to make you laugh or make you cry, it's our goal to be able to do that on the spot, improvised, by the energy we give off and the sounds we create," says Skager.
"Sweater Music, Vol. 1" was a "great learning experience," according to DeBlaey, as they are currently recording a full-length album. Fuerst says that it's really cool to be working on the new album and seeing the progression from then to now. Their full-length album is being recorded this summer, and they expect to release it in the next nine months. It's "the most ambitious chunk of work" they've ever worked on, as DeBlaey puts it. They plan on going on tour to celebrate the album when it is released. Fuerst says, and his bandmates agree, that they are "extremely gracious and happy that we get to do this."
Follow Sweater People on Instagram and Facebook, and find them at their website.